Luxury Balinese Day Spa Noosa
At ikatan we care more about your wellness than winning awards. That's why we keep winning awards.
ikatan Day Spa is open Monday to Saturday 9am to 6pm, closed on Sundays and all Public Holidays.
Please be polite and kind to our staff, they are giving their best to help you.
We accept cash, gift visa cards, apple pay and all credit cards with no surcharges.
While we have always had a health and wellness policy to prevent the spread of colds, flu or viruses at ikatan Spa,  all guests are now required to complete a health questionnaire, sent as a text link, in your confirmation text message to your mobile. Keeping a safe environment is a priority and important for our close contact workplace health and safety.
We have a 24 hour cancellation policy  to give you the opportunity to cancel prior to the day of treatments, without charge, should you have any signs, symptoms or been with others who are unwell. Should you cancel within 24 hours or arrive at ikatan Spa or present with any sniffles/cough/runny nose or illness symptoms we won't be able to proceed with your treatment and 100% cancellation policy will apply.
In consideration of adults wanting to relax, we do not accept babies or children nor pets left in cars during your treatments at ikatan Spa. You are welcome to bring children into our reception to purchase gifts, products or make a booking. Dogs are to remain quietly on a leash outside please.
We do offer Teen Spa Treatments accompanied by parents also having treatments.
All prices are inclusive of GST and are subject to change without notice.
Just minutes from Noosa, Sunshine Beach, Peregian Beach, Coolum or a short drive from Sunshine Coast Airport or Mooloolaba, as well as a drive from Brisbane, Gold Coast and Toowoomba, ikatan Spa attracts a large demographic from southeast Queensland as the best destination for relaxation.
ikatan is Bali, Noosa style, built around a Balinese village concept set on acreage, where treatment rooms are villa style, set in the gardens with a choice of double and single air-conditioned rooms. Ikatan also has a communal garden room surrounded by nature where head massage and foot treatments take place. Ikatan Spa has a private guest car park, with special needs parking and access is also provided.
You can also find some helpful information on our WELLNESS BLOG PAGE, with tips and articles on how to care for yourself, useful wellness information and more about our why we create our own treatments.
LUXlife Global Award –  Queensland Best Luxury Destination Day Spa 2023
Travel & Hospitality Global Award – Australia Luxury Spa of the Year 2022
Haute Grandeur Global Hotel and Spa Award winner of four prestigious awards for Best Spa, Best Boutique Spa, Best Eco Spa and Best Signature Treatments in Australia.
Winner of Luxury Life Global Hotel and Spa Awards for Australian Luxury Spa of the year 2022
Voted four times for Best Destination Spa in Australia and chosen by Tourism Queensland as a 'Best of Queensland Experience' 
Unlike other day spas, our staff do not have to rush treatments due to time constraints as they are given plenty of time before guests arrive to prepare for treatments and between guests treatments to replace linen, clean, sanitise, re stock and replace products in rooms for the next treatments.
Katrina, ikatan Spa owner is an authority on wellness and passionate about offering what our guests need to improve their wellbeing, it's the reason she creates uniquely relaxing, wellness focused treatments for our guests.
Your expectations are important to us and by reading the information we provide you will have a better understanding of what to expect from a relaxing, wellness experience at ikatan Spa. information and policies
You won't find deep tissue or remedial style massage or mainstream treatments at ikatan Spa but an experience focusing on slowing down, unloading your mind, soothing your body so that it can reach its own equilibrium. Rather than an appointment, ikatan Spa is about giving yourself time in the hands of a well trained nurturing therapists.
Escape the Ordinary at ikatan Spa Noosa
Whether you visit for a Day Retreat Package  or an hour's treatment we encourage spa guests to relax in the gardens before or after spa treatments.  Surrounded by nature sit in the sun or shade, undercover or open air while you listen to birds and during the warmer months you might see the small, native water dragon lizards.
 Enjoy a complimentary pot of tea or a glass of champagne (non-alcoholic option). ikatan also has a boutique wine and local craft been menu if you would like to order more to drink while relaxing in the gardens at ikatan spa.
Privacy for our guests is important to us and unlike most day spas, our guest change in the privacy of their treatment room, rather than having to share a communal change room with strangers. You keep your belongings with you and you don't need to wear a one-size doesn't fit all bath robe before or after your treatments. 
We reserve the seating in our lounge and gardens for spa guests only. Therefore, we are not be able to provide waiting areas for people not having spa treatments but there are some great cafes close to ikatan Spa.
Why a Balinese style day spa?
The name, culture and style of ikatan embraces the same concepts as Bali, where life is at a slower pace and staff are given plenty of time to care for guests.
Majority of our body treatments are from traditional Balinese recipes and ikatan massage is based on Balinese style. Katrina, (owner) taught massage in Bali for many years and creates all the unique massage styles at ikatan, which have a focus on relaxation, destressing and wellness and can only be experienced at ikatan spa. 
It's easy to understand why ikatan is know as 'the destination day spa' for those who need to de-stress and improve their wellness. Make the most of your experience by arriving at least 15-20 minutes prior to your treatment time to enjoy a welcome drink in the lounge or gardens and start your treatment of time. Just like arriving early to an airport before a flight, to use the business class lounge.
Where time stands still, serenity surrounds you and our paradise is yours to enjoy.
ikatan Spa is private destination Day Spa where you can come for an hours luxury treatment or a package where we combine treatments to compliment each other, giving you more time to relax as treatments flow seamlessly from one to next with one spa therapist caring for you throughout your package.
Time is the ultimate luxury and it moves at a slower pace when you are at ikatan Spa, surrounded by nature in our private wellness Day Spa. We do things differently to other standard day spas and therefore we recommend you read our policies and information to understand how we create an experience for you, rather than just an appointment at ikatan Spa Noosa.
Awarded Best Eco Spa in Australia
ikatan Spa has been an 'eco-Spa' before it was even a word.
We are an environmentally, eco-friendly, nature and green space destination Day Spa. While 'eco responsibility' has become an important part of a business, at ikatan we have always been thoughtful of our environment and carbon footprint.
Removing the use of single-use plastic has been implemented at ikatan since we opened and now as part of the Noosa community solution to being one of the most environmentally sustainable places in the world. At ikatan, we are proud to say, we have been anti-plastic since we opened in 2002.
We are water-wise with our own tank water and use glass or keep bottles for drinking our filtered water. Having clay-based soil helps keep our gardens lush without hand-watering with tank water, when necessary. We have eco-flush toilets and our own eco-cycle septic system.
We select companies who have eco-friendly products supplied in recycled or refillable packaging.
No harmful chemicals are used in the building or maintaining of ikatan Spa. Even our walls are painted with non-toxic Rockcote paint from a local company and it is a safe long-wearing, quality paint.

We reuse, recycle, upcycle and or regift everything that comes in and goes out of ikatan Spa.
Energy saving conservation with instillation of power-saving equipment and devices, educating staff to turn off any power source wherever possible and conserving power usage by using natural light.

Ikatan Spa is a 'green space' and providing 'green therapy' is a large part of our ethos for de-stressing and relaxation in nature. Our tropical gardens are surrounded by hinterland bush and we are continually re-planting trees and native foliage to keep our bush setting.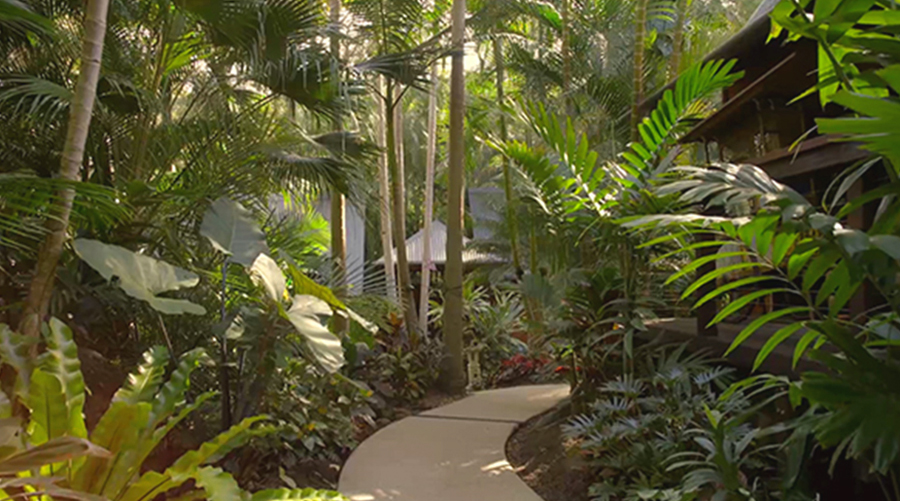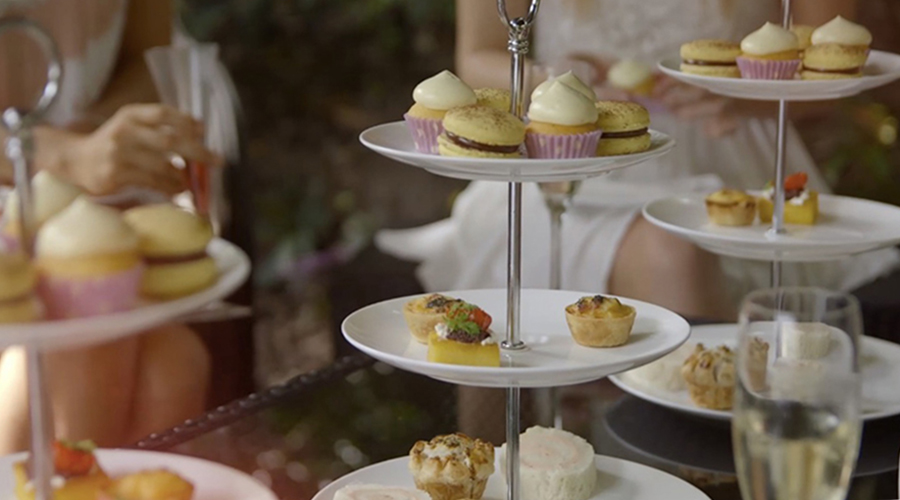 Luxury Spa Treatments at Ikatan Spa
Best Eco Spa in Australia
Luxury Spa Treatments at Ikatan Spa
gallery garden walk ikatan Spa
A Double room treatments.900
Luxury Spa Treatments at Ikatan Spa
Wellness packages at Ikatan Spa Noosa
Luxury Spa Treatments at Ikatan Spa
Luxury Spa Treatments at Ikatan Spa
A-FootTherapy-ikatanSpa900
gallery.ikatan rainforest walk
pregnanct massage web gallery
G.ikatan Spa Group High Tea
G.Facial ikatan Spa Noosa
Day Retreat ikatanSpa 900
John and Siena
Best Hot Rock Massage we have ever experienced

Kellie
Ikatan, you never disappoint. Must be my eighth time here and certainly won't be my last

Kate
Absolutely amazing! Felt like I had four hands working on me. Best pregnancy massage ever and I was always made to feel comfortable.

Stephanie
I could feel my therapist was passionate about what she does and was well trained in the ikatan Spa style of massage.

Maddie
Hands down the best spa package i have ever had. The little details and the care were amazing and made for an incredible experience.

Jenny
Despite the slight delay due to power outage, I thoroughly enjoyed my treatment at ikatan Spa and will be back for more.

Rachel
Amazing Experience. I haven't been this relaxed in years. Professional, clean and such beautiful surroundings. I look forward to coming back again.

Lesley
Amazing massage and facial, sorry about my snoring

Tammy
Outstanding in every way. I cannot rate my massage, the landscaping of the gardens and the service highly enough. Thankyou I will be back.

Karen
Loved my spa package and it was nice not to have the 'hard sell' of products during or after my treatment but left by my therapists in the beautiful gardens to relax with a glass of champagne.

Jamie, friends and family
We had the best time at ikatan for my special birthday. Everyone in our group loved their treatments, service the attention to detail and spending time together in the Balinese garden with High Tea and champagne was the perfect way to spend the afternoon with my family and friends
