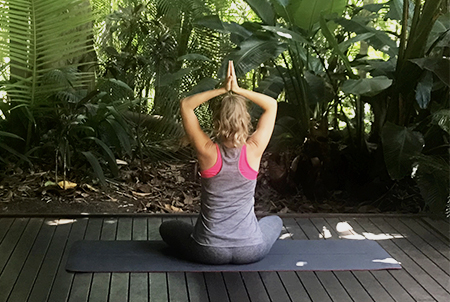 Escape The Ordinary with A Day Retreat
ikatan Spa is the perfect place to retreat when you feel stressed, overworked or tired and need to escape - 9.30am - 5.30pm
ikatan Spa Day Retreat is an all inclusive personalised day to relax the body, de-stress the mind, and nurture the inner self.
Escape on your own, with a friend or partner. All our retreat packages are bespoke, including pregnancy safe Day Retreats to cater for this special time in your life when you need nurturing.
We focus on wellness at ikatan Spa, especially when we are creating packages for Day Retreat guests.
Arrival
9.30am arrival to enjoy a welcome beverage and healthy nibbles in the gardens followed by a consultation with your personal yoga/meditation teacher, before Yoga in a garden room. 
BODY: YOGA: Personalised for your level from beginners to advanced yoga offering energising, stretching or pure relaxation to help you stretch, destress, release tension. (option to omit yoga or meditation for shorter Day Retreat with price adjustment - add notes to booking or consult with ikatan Spa Reception Team)
MIND: MINDFUL MEDITATION – Personalised guided meditation to clear your mind.
SOUL: YOGA & MEDITATION Combining yoga and meditation for your personal needs and level from beginners to advanced to help you destress and release your mind.
Breakfast
Select your choice of healthy breakfast from the Day Retreat Wellness Menu the day prior to arrival, to enjoy with choice of beverage in the gardens before your morning spa treatments.
Morning Treatments
Treatments created to slow you down and clear your mind. Starting with a soothing traditional Balinese Foot Ritual while you meet and consult with your Spa Therapist, who will be caring for you throughout the day followed by a traditional body treatment and massage is the best way to help you unwind and start to relax.
At ikatan our focus is on de-stressing, calming, nurturing and relaxing the body and mind. Therefore, we do not offer deep tissue, remedial or firm massage. All our Spa Therapists are trained in ikatan Style of Balinese Massage, with long flowing moves using palming hands and forearms.
Lunch
Select your lunch from the Day Retreat Wellness Menu the day prior to arrival. Some guests like to read a book, one of our local magazines or just enjoy sitting in our Balinese gardens relaxing over lunch with a glass of wine, herbal tea or mineral water.
Afternoon Treatments
Slip into relaxation with skin rejuvenation and fancy feet. Facials are popular for drifting off to sleep and waking up to rejuvenated skin but some guests like try another one of our unique massages instead. Finish the day with a Pedicure, Foot Therapy and Asian Head Massage.  
Afternoon Snack
Select your afternoon snack from the Day Retreat Wellness Menu the day prior to arrival to have with a glass of wine, champagne or pot of T2 tea while your therapists soothes your soles and paints your toes. Day Retreat finishes at 5.30pm
This is an outline of how our Day Retreats run to give you an idea, however, all Day Retreat packages are bespoke and created for personal needs after an email consultation.
ikatan Spa is a boutique Day Spa where life is at a slower pace, giving you time, the ultimate luxury.
If you have shellac on your nails please have it removed before your arrive at ikatan Spa or an alternative treatment will be offered as we do not remove Shellac, Gel or long wear polish.
Four days prior to your booking you will be sent a text message to the mobile number provided for your booking. This message will have a  link to our online health questionnaire, pertaining to your treatments, which is to be completed by everyone entering ikatan Spa no later than the day prior to your arrival for spa treatments please. Your data is only used by ikatan Spa in preparation for your treatments.
Cancellation or Reschedule of Day Retreat - We require three days prior notice if you wish to cancel or re-schedule your Day Retreat Package.
A yoga instructor has been booked and eight hours of treatment time has been reserved especially for you.
Respectfully, it is difficult to re-book eight hours of treatments with other guests at short notice and therefore cancelling a Day Retreat incurs the full cost of booking inside 3 days and will be charged to the credit card and/or gift voucher provided for payment unless the booking can be refilled by another guests.
PRE BOOK TAXI - Due to lack of Ubers or Taxis of an evening in Noosa, we advise you to pre-book or organise your return transport from ikatan Spa to your accommodation for 5.45pm as Day Retreat finishes at 5.30pm
For your best experience please read our information and cancellation policy.