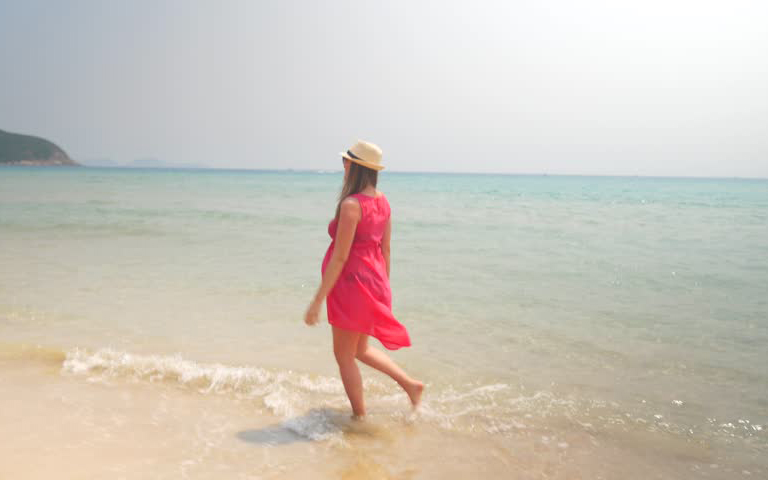 Mumma and Nanna Share the Best Babymoon
While it's not a typical couple's babymoon. Sharing special pre-baby time with your mother can be so memorable and a lot of fun. As you prepare to have your baby and your Mum prepares to be a grandmother it's a great reason to share your babymoon together.
It was a few weeks ago that I met a mother and daughter at ikatan Spa who were on their 'Nanna and Mumma' babymoon, which came about as the Dad-to-be was not able to take the planned time off away from work. Everything was booked for the babymoon so why not take Mum instead, to look after you and share some special time together rather than canceling this special mini-break.
The more I thought about how much fun both ladies were having on the babymoon, the more I wanted to share their story with a few of the things they talked about and some things that could be included in a babymoon with your mum, sister or best friend.
Aside from getting away for a few days, they chose Noosa as the destination of choice for the shopping, cafes, scenery, relaxed vibe and a visit to ikatan Spa. They found they were spending a lot of time chatting and sharing memories, stories of childhood, family and how excited they both were about the arrival of a new baby into their family.
They shared many discussions over what grandmother would be called, from being Grandma, Nanna, Nanny, Nonna or a family coined name used by other grandkids. Because now grandmothers tend to choose their own name rather than following traditional names as do grandfathers, grandads, poppas and pas.
What was most notable was how much fun mum and daughter were having together on the babymoon in Noosa.
Here are the five best things to do on a Mum and Daughter Babymoon.
1. Shopping
Women are known as professionals at seeking and finding what they need, better known as shopping. Doing it without limits on your babymoon usually happens when you take your mum because you know your mum always has her purse with her while you choose some clothes for yourself and so many for the baby, together.
Some cute toys and an outfit or two for the lady who always has her card ready are all part of a mum and daughter babymoon shopping experience. There are so many shopping areas in Noosa from Peregian Beach where you will find a number of eclectic boutiques, including a mum and bub store.
Noosa Junction is a must-visit to find some unique shopping from beautiful boutiques and Hastings Street is well known for some big brand shopping and boutiques as well as restaurants and cafes and it's a tradition to stroll up one side of the street and down the other side finishing with a Massimo ice cream.
Noosaville has a few boutiques and lots of cafes along the waterfront with great views over the Noosa River.
2. Relaxing at a Day Spa.
It's always a great way to spend time being cared for at a Day Spa on a babymoon with your partner or your mum! At ikatan Spa we have a large choice of treatments and plenty of options for pregnancy treatments or our popular Day Retreat personalised for pregnancy.
All the therapists at ikatan Spa are trained one-on-one in pregnancy massage and treatments and while many day spas don't offer pregnancy treatments due to the time it takes to train staff, we enjoy training, teaching and learning, it's rewarding to care for a mum-to-be knowing there's a little person inside enjoying the serenity of a relaxed mumma.
Research tells us that a relaxed Mumma is best for bubba. The most popular treatments during pregnancy are usually massage, facials and pedicures or head and foot massages. You can read all about what treatments are best in what trimester of pregnancy, by clicking through here to our Mum-to-be page.
3.No Cooking or Planning Meals.
Make the most of eating out before find it all too hard to go out for dinner after the baby is born. But you will be the first people at the cafe early in the morning after a walk with your pram or baby papoose so make the most of relaxed restaurant evenings.
Enjoy a break from planning meals and cooking is a good reason alone to have a mini-break and Noosa is a place where you will find dietary choices noted on most cafes and restaurant menus. Make the most of eating out in Noosa area. Noosa Junction is our latest go to precinct for casual cultural eating with a variety of places serving pregnancy safe options.
4 Sleeping In or Up With the Sun.
Sleeping in and having a nap while on a babymoon is something your mum will definitely understand as being essential, she may get you breakfast in bed. However, your body may already be tapping into early morning waking full of energy, as I did with both my pregnancies, in readiness for baby feeds and attention, which is a beautiful time with your baby no matter how sleep deprived you are. If you're an early riser make the most of being in Noosa with a walk in the park or along the river or beach.
5. Places to Exercise in Nature.
Noosa offers so many places to exercise while taking in our pristine world heritage surf reserve or biosphere. Nature is just part of everyday life here in Noosa where walks on the beach or through the park or along Noosa River are picturesque and Instagram worthy. If you love a swim in the sea, bring your swimming gear to Noosa no matter what time of year, as our water is always a warm 20-24 degrees and while a little invigorating in winter, it's cooler out of the water than in the sea.
Noosa was the perfect location for a mum and daughter babymoon. Where memories were shared and made and insta-moments captured in Noosa locations to look back on and show the next generation that's soon to arrive.
If you want to checkout things to do and see in the Noosa and Hinterland area Visit Noosa Website is a great place to start or if you want to book accommodation a lot of our guest stay with Niche Luxury Accommodation .
A babymoon is a great way to de-stress because a relaxed Mumma is best for bubba and we look forward to welcoming you to our beautiful location to be cared for by trained therapists with pregnancy safe products.
Katrina – Owner ikatan Day Spa Noosa